Carver M-500t mk II specifications
| | | |
| --- | --- | --- |
| | Stock | Mk II |
| Power | | |
| 8 ohms | 251 watts <0.15% THD | 395 watts <0.15% THD |
| 4 ohms | 330 watts <0.15% THD | 420 watts <0.15% THD |
| At Clipping | | |
| 8 ohms | 270 watts | 410 watts |
| 4 ohms | 350 watts | 490 watts |
| Dynamic | | |
| 8 ohms | 380 watts | 520 watts |
| 4 ohms | 470 watts | 920 watts |
| 2 ohms | 410 watts | 1214 watts |
M-500t MARK II Manual Addendum
The M-500t is widely considered the most musical of Carver's M series amplifiers. Billed as the Light Heavyweight, I've always hoped to have one with more power. Nine months ago I started experimenting, and the Carver Mk II modification upgrade is the result. Each amplifier goes through a 2 track process .
TRAC I
| | |
| --- | --- |
| Troubleshoot: | Component level fault isolation. |
| Repair: | Replace any malfunctioning parts; bring the amplifier to working status. |
| Align: | Perform all published alignment and service bulletins. |
| Calibrate: | Verify performance against published specifications. |
TRAC II
| | |
| --- | --- |
| Test: | Check power diodes and resistors for drift in value due to age and use. Perform initial benchmark |
| Restore: | Replace all electrolytic capacitors; power resistors and power diodes replaced as required |
| Augment: | Replace all voltage rectifiers with higher current devices. Boost power supply rail voltages. Re-design gain stage for new rail voltages. Replace all electrolytic capacitors, pre-drivers and switching transistors with higher voltage/current devices. Install ultra-fast switching diodes and higher bandwidth input buffer. Increase capacitance from 31000 uf to 44000 uf. Replace output transistors with higher current devices using 7% silver solder. |
| Calibrate: | Benchmark to new specifications. Perform 96 hour burn in at 1/3 power into 4 ohms. Final alignment. |
The result is an amplifier with a much higher power rating, more headroom, less commutation distortion, better current sourcing and performance into low impedance loads, as well as tighter bass and transient control.
Bonus upgrades:
5-way binding posts bring the amp into the 21st Century using 7% silver solder
Meter incandescent lamps are replaced with high output LEDs of your color choice
New High Grade Output relay
Modern silicone thermal isolators are used in lieu of mica and paste
What can I do with it?
The M-500t MK II is an awesome 2 channel amplifier
For home theater use, it can be used to power the front left and right speakers by connecting the amplifier to the HT receiver preamp outputs. If your HT receiver has no preamp outputs a line level converter may be used (I can make one for you if required).
What happens if the amp fails?
During the first 15 days, if you are unsatisfied, for any reason, with the M-500t Mk II you can return it to me and I will buy it back for the sale price + $50.00.
As long as we're alive we will repair any M-500t Mk II sold for cost of parts plus shipping.
Images:
M-500t Mk II illustrated parts list
Power supply board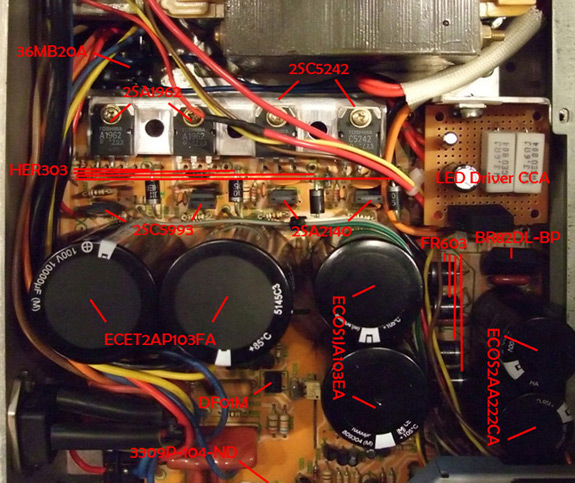 Main board top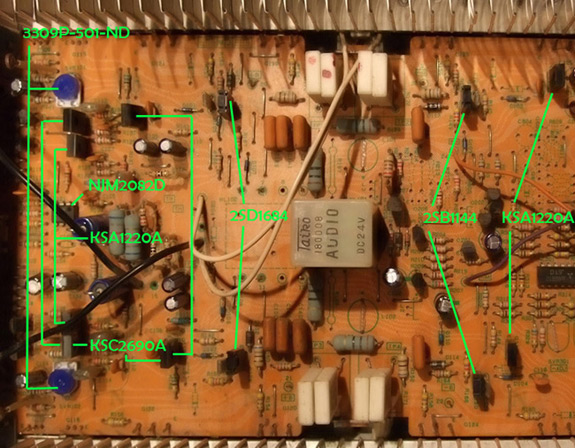 Main board bottom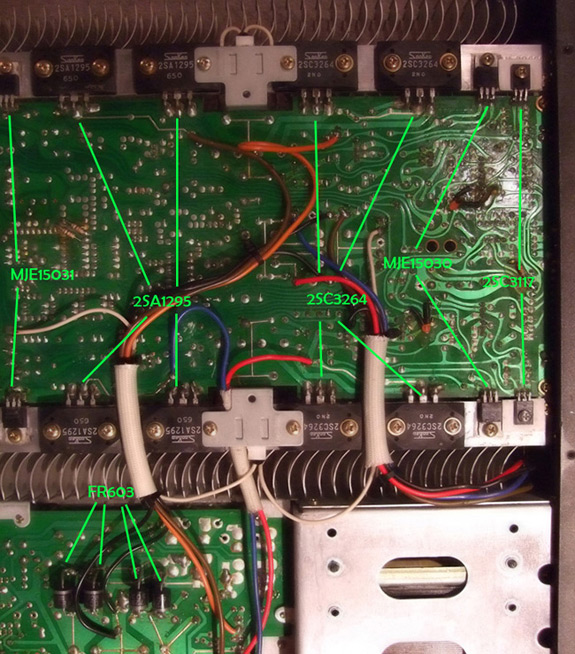 M-500t Mk II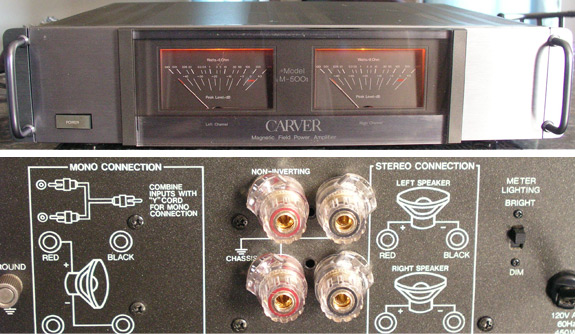 Carver mk IITM 2008 by Richard Pecoraro
All design modifications are freely available, for non commercial use, and licensed under the TAPR open hardware license (www.tapr.org/OHL)
Hear what you've been missing, with a Carver mk II series audio amplifier!